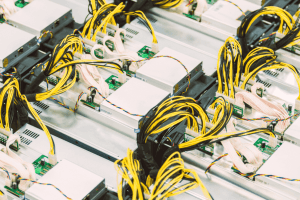 The price of crypto mining hardware is plummeting in China, with reports of mining rigs selling "like scrap metal" on the Mainland as Crypto Crackdown 2.0 is forcing local mining companies to close down.
Per Odaily, as well as Epoch Times and a report from the broadcaster NDTV, mining hardware prices have fallen by as much as 50% since April.
The glut of second-hand machines being put up for sale is reportedly the main reason why Bitmain, the Chinese mining hardware giant, late last week halted all sales – in a bid to steady prices.
The broadcaster aired interviews with two mining hardware industry professionals (first names and companies withheld). The first, surnamed Zhang, said that the number of second-hand machines coming onto the market had driven prices down. She added that many miners are looking to cash in on their rigs rather than relocate.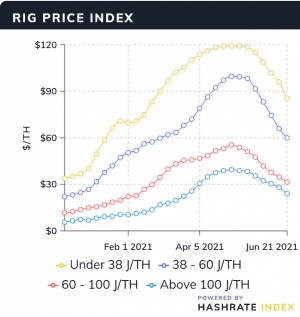 The second, surnamed Li, said that "many people are now losing money," and that "a lot of miners are still operating their machines." He added that the crackdown "has not completely killed off" the mining sector on the Mainland.
However, Li remarked that mining Bitcoin (BTC) was a risky business, as it was relatively easy for power providers to detect. And with teams of apparently zealous inspectors now doing the rounds, the chances of detection are higher, making mining riskier than ever.
With many miners now going out of business, with some still talking vaguely about relocating to Texas and other United States destinations, one industry insider was quoted as stating that "mining machines are currently being sold like scrap metal" in China.
An anonymous Chinese crypto enthusiast was quoted as stating that the mood among investors was similarly glum, as was quoted as stating:
"When bitcoin prices first started to fall, there was still a lot of chatter and laughter in investor group chats. Everyone was joking about how best to increase their positions. […] But this month, the group chats are quiet, most people are silent and […] and it feels like these groups are about to disband."
___
Reactions:
As miners leave China, almost every top bitcoin mining pool has lost at least 10% of its hashrate, with most down b… https://t.co/vIyLiScoDy

— Zack Voell (@zackvoell)
@cbspears Crazy how fast it grow since 2017. Now we are back at levels not seen mid 2019. Long term it's very healt… https://t.co/O2h7cbwYGo

— Carl ₿ MENGER (@AustrianSchoolB)
@BitfuryGeorge I don't get why the young generation isn't rising up against this authoritarian government. #Bitcoin… https://t.co/D7XngDsW47

— Quer⚡ (@Querzel)
____Learn more:- Here's What China's Bitcoin Mining Crackdown 2.0 Looks Like- Ethereum, Litecoin, DOGE Miners Run Fewer Rigs Amid Bitcoin Hashrate Drop
– Sichuan 'Joins Chinese Crypto Crackdown' as US Woos Middle Kingdom Miners- Bitcoin Miner Relocation Within China and Worst Case Scenario
– 'Next Great Miner Migration Will be Away from China' – Poolin Exec- Analysts See 'Seismic shift' In Bitcoin Mining Amid Chinese 'Crackdown'