The cryptocurrency market is flat today after a topsy-turvy week. Its total cap has crept up by a modest 0.9% in the past 24 hours, to $1.74 trillion. Most major coins are similarly frozen, with some even losing significant ground. However, with a strong rebound long overdue, we've put together a list of the 5 best cryptocurrency to buy for the weekend rally. These are coins that show potential in the short- and long-term.
5 Best Cryptocurrency to Buy for the Weekend Rally
1. Bitcoin (BTC)
BTC is basically unchanged in the past 24 hours, at $36,787. This is a minor 0.4% rise in the past 24 hours, and a 10% fall in the past week. BTC is also down by 23% in the last 30 days, and by 46.8% since its all-time high of $69,044 on November 10.
BTC's one-year chart (above) shows that the cryptocurrency is nearing the bottom of a down-cycle. Its relative strength index (in purple) recently touched 20, and is still hovering around 30. This indicates that it's strongly oversold. Similarly, its 30-day moving average (in red) is in the kind of position that, in the past, resulted in it turning a corner.
Regardless of when exactly BTC's recovery arrives, it's one of the — if not the — likeliest cryptocurrency to rebound strongly first. As we never get tired of pointing out, it always leads rebounds and new bull markets, which is exactly what it did in late 2020 and early 2021. So if the market is going to recover, BTC will be leading the way.
This is largely because of BTC's domineering market position. It boasts the oldest, most secure and most decentralized blockchain network, while the network effects that come with its first-mover advantage have helped it attract institutional investment more than any other coin. It's likely to stay this way for the foreseeable future. This is why it's remains one of our 5 best cryptocurrency to buy for the weekend rally.
2. Ethereum (ETH)
ETH has fallen by 1% in the past day, to $2,397. This is a 20% drop in the last seven days and a 37% dive in the last 30. ETH is also 50% down compared to its ATH of $4,878 from November 10.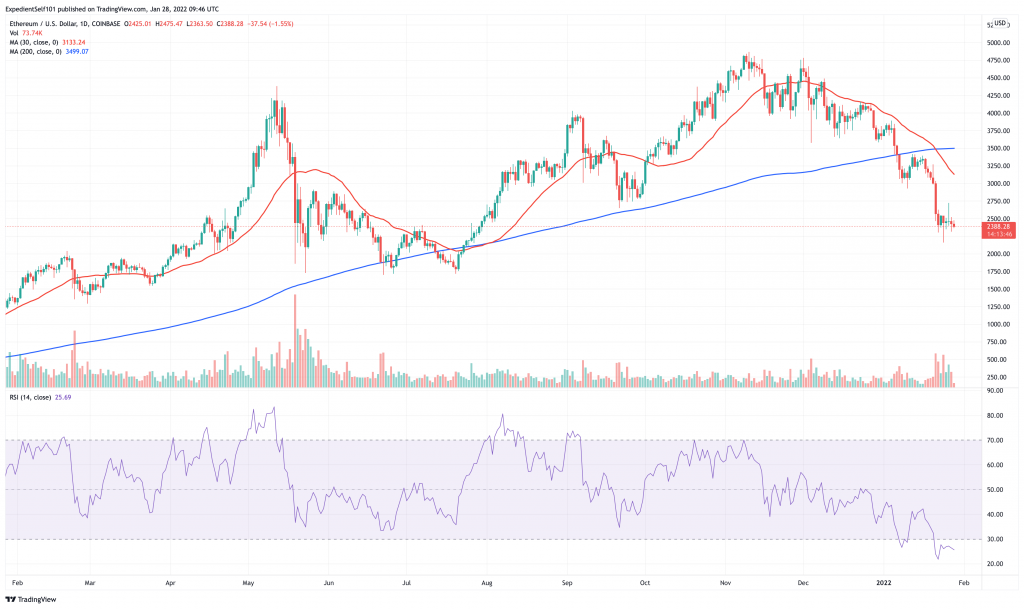 ETH's RSI has more or less hit rock bottom. Its 30-day moving average has also fallen significantly below its 200-day average. These lows could signal that the cryptocurrency is about to rebound. Of course, with the downturn being market-wide (and largely due to a macroeconomic aversion to risk), the fall could still continue for some time yet.
Nonetheless, ETH is also one of the best cryptocurrencies to get behind for an eventual recovery. Ethereum remains the dominant layer-one blockchain, with its total value locked in accounting for about 70% of the overall DeFi market.
Meanwhile, its incoming shift to a proof-of-stake consensus mechanism (later in the year) will impose constraints on the supply of ETH. Combined with last year's London hard fork (which introduced fee burning), this could make ETH significantly deflationary in the future. In other words, its price is likely to rise substantially in the more distant future.
3/ At this rate, if market demand continues, Ethereum may see its issuance become deflationary relatively soon.

In fact, it's possible that December might become the first month in which Ethereum experiences negative net issuance (deflation).

— Messari (@MessariCrypto) December 7, 2021
1. Terra (LUNA)
At $51.83, LUNA is down by 13.7% in the past 24 hours. It's also down by 32% in a week and by 39% in a month, as well as by 50% since its record high of $103.34.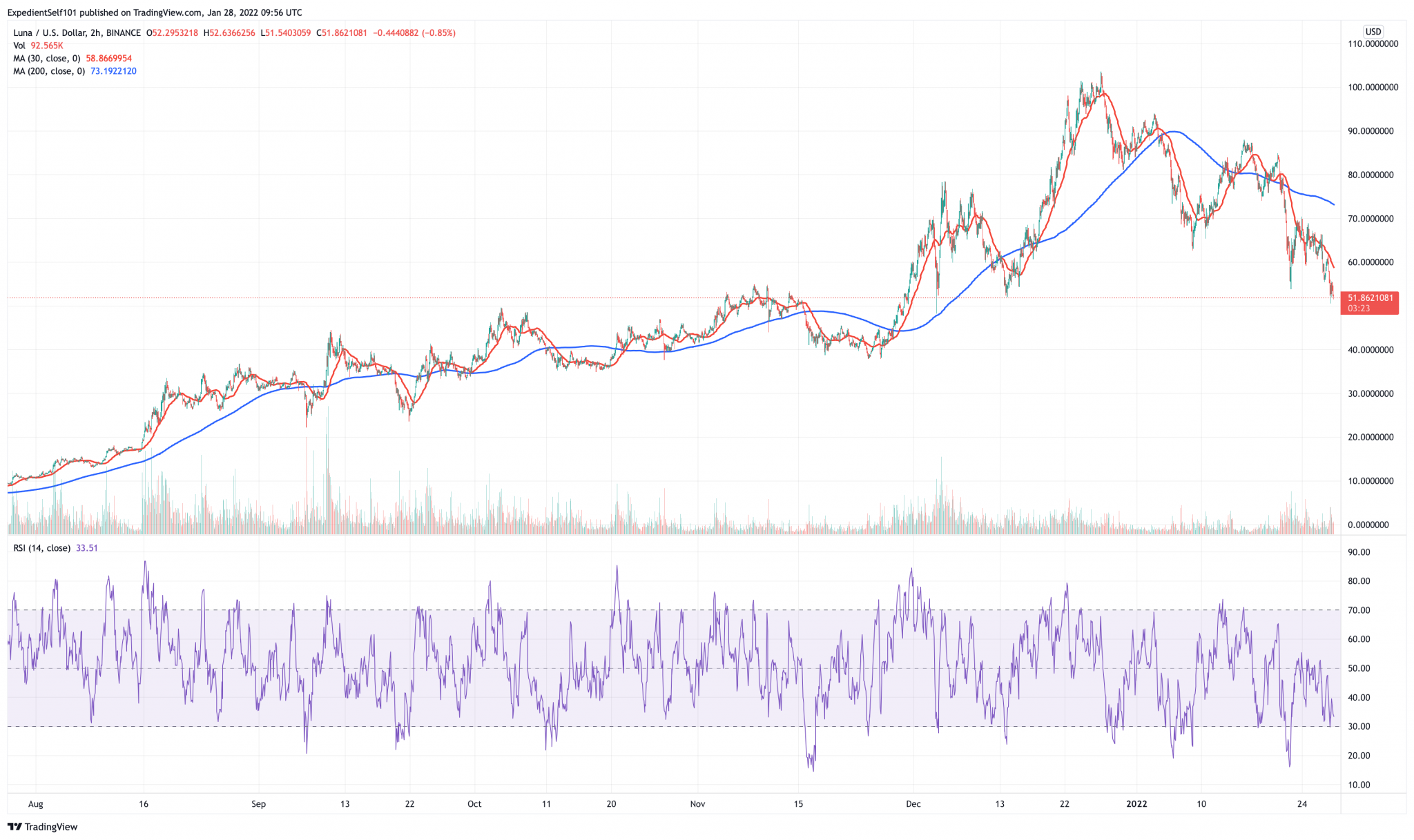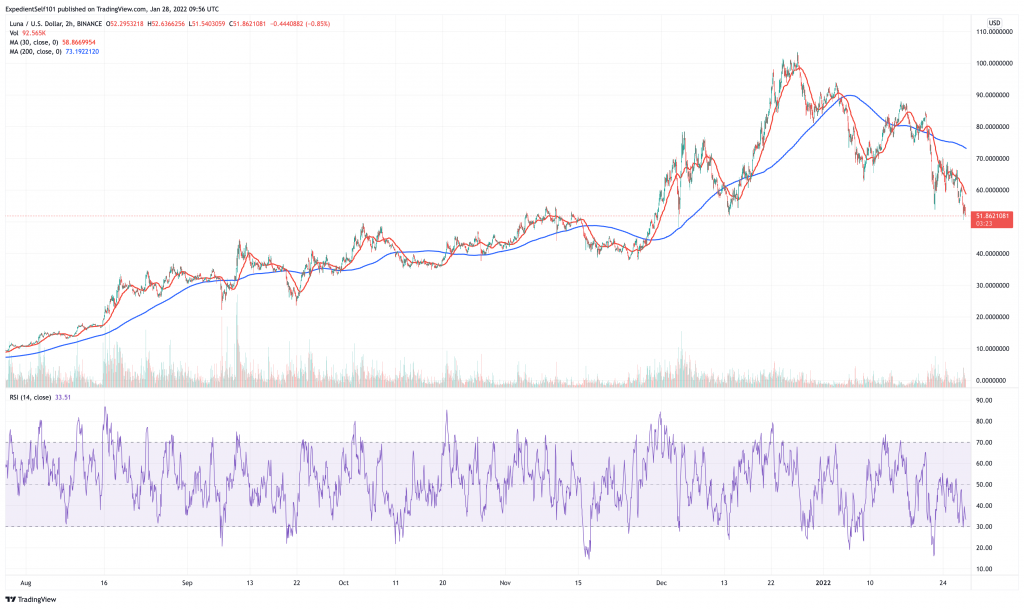 LUNA's six-month chart shows that it's also reaching a bottom. Its RSI is about to fall below 30, which is oversold territory. Meanwhile, its 30-day average looks like it could be at the end of its recent dive.
LUNA is another coin with strong fundamentals, making it a (relatively) better bet during a downturn. Its native platform, Terra, burns it whenever minting new stablecoins (such as TrueUSD). Combined with its fixed supply, this means it's deflationary. In fact, users also use LUNA for staking with Terra, applying further supply constraints.

~70% of $LUNA's circulating supply is staked and that's without inflationary tokenomics.

All yield paid out to $LUNA stakers is paid out from network transaction fees, *no new $LUNA issuance*. This is a huge differentiator from nearly all other chains.

— Harry.UST 🌖🔥 (@CryptoHarry_) December 1, 2021
And with the Terra ecosystem growing to $14.4 billion in TVL, such rising demand will see its supply shrink further. This is why it's one of our 5 best cryptocurrency for the weekend rally.
4. Axie Infinity (AXS)
AXS is another coin that has arguably fallen too far relative to its fundamental worth. It's down by 5% in the past 24 hours, at $46.53, and by 33% in the past week. It's also down by 53% in a month.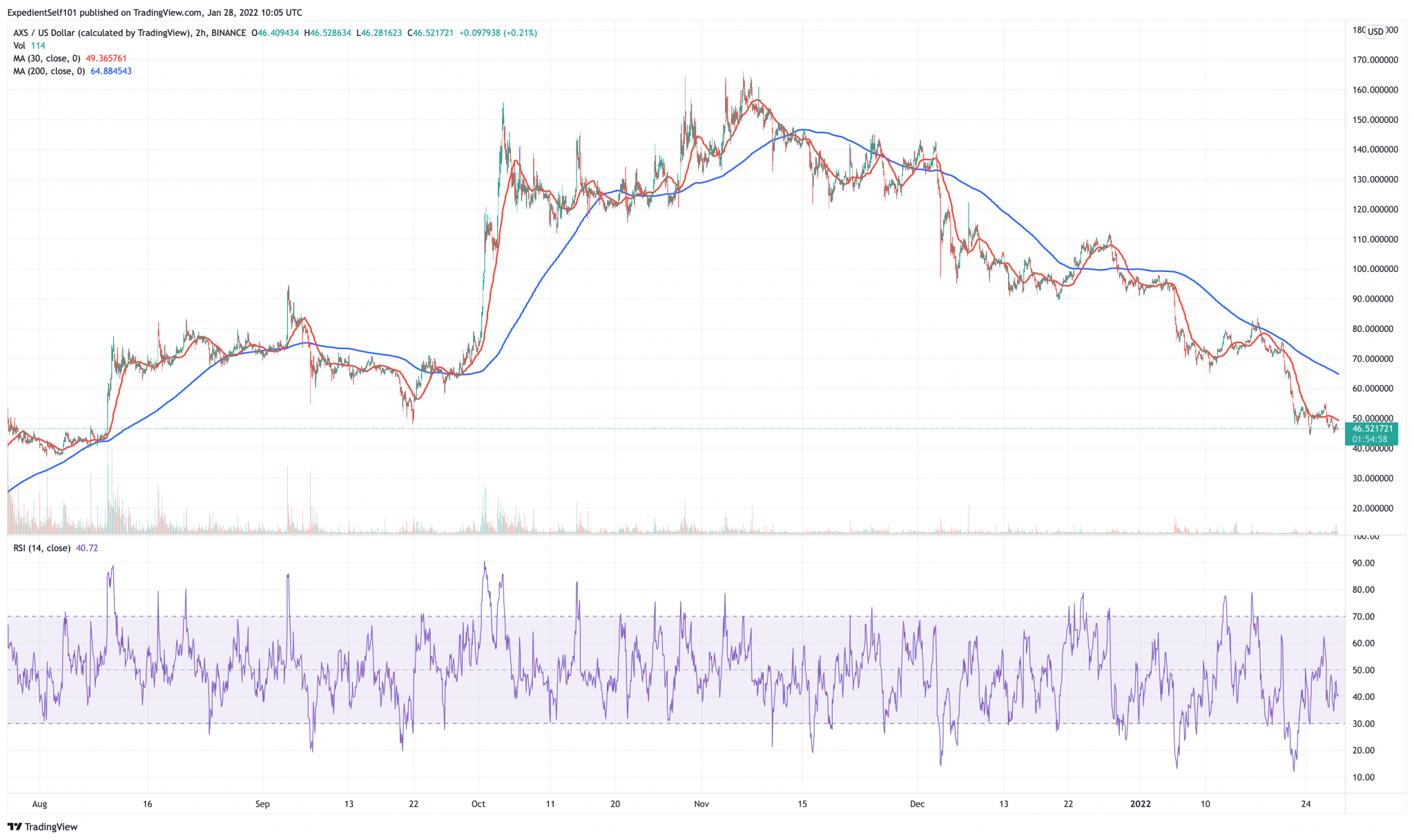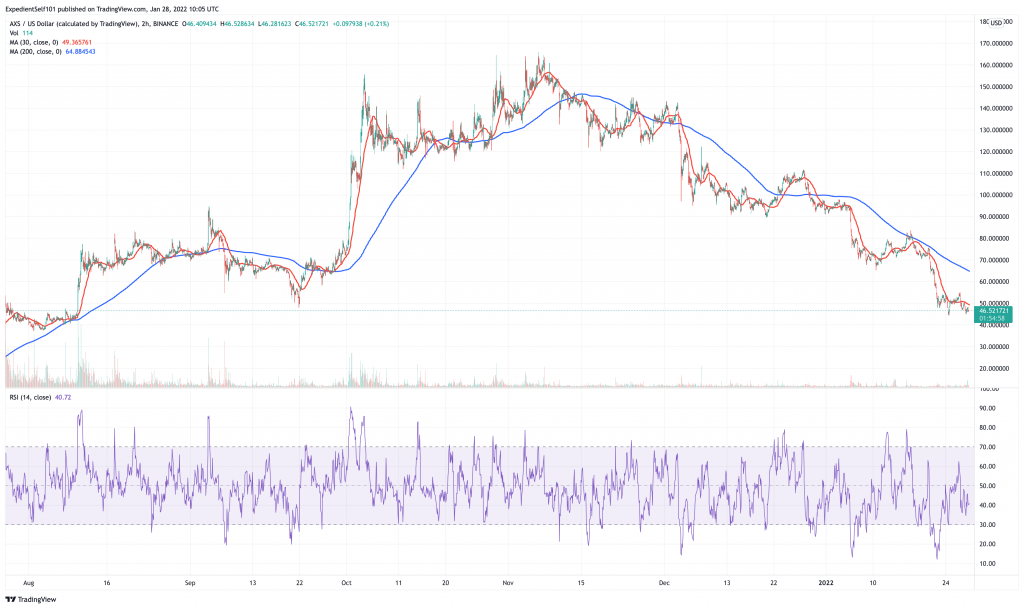 AXS's 30-day average has dropped considerably below its 200-day average. Its descent has also flattened out to some degree, suggesting a possible reversal.
Irrespective of timeframes, AXS should recover sooner or later, especially when it has fallen so steeply. Its native platform, the NFT-based game Axie Infinity, continues to boast around 2.3 million daily active users. This has remained more or less stable despite the fact that AXS itself has declined by 71.8% since reaching a record high of $$164.90 on November 6.
Axie Infinity also has the benefit that its developer, Sky Mavis, raised $152 million in October from Andreessen Horowitz and Mark Cuban. Such funding suggests it has the resources to continue growing and developing well into the future.
5. Solana (SOL)
Continuing the theme of sound cryptocurrencies that have fallen more than they should, SOL is down by 1% in the past day. At $89.63, it's also down by a hefty 30% in the past week. And in the past month, it has posted a 50% drop.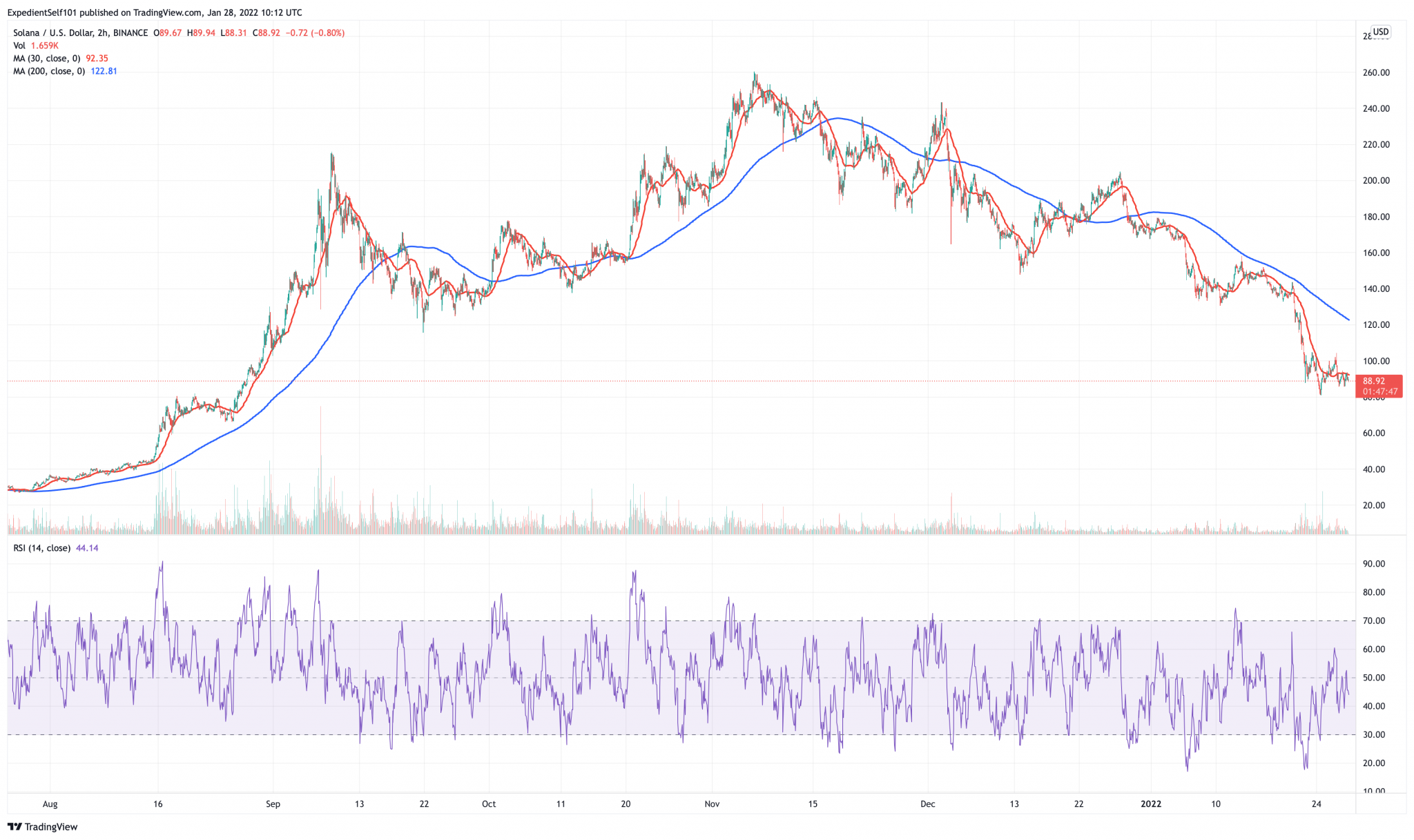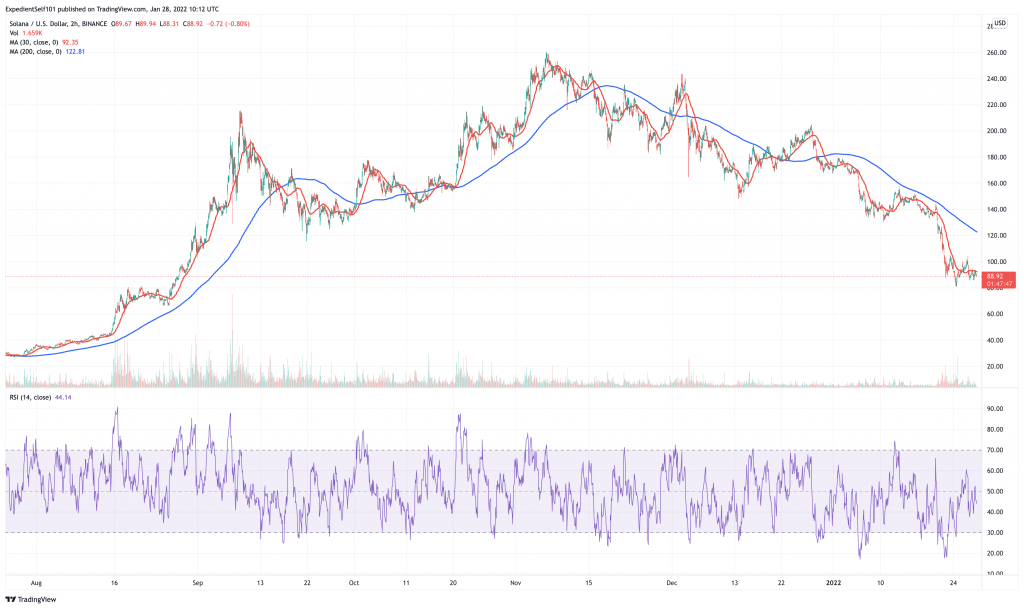 SOL's indicators have recovered a little compared to a few days ago. After a consistent decline they've now stabilised, with SOL's RSI nearing 50. Again, this could signal a recovery, although the perilous state of the wider market continues to urge caution.
Still, with SOL down by 65% compared to its ATH of $259.96, it has plenty of ground left to recover. It's also a fundamentally strong coin, with native platform Solana accounting for nearly $8 billion in total value locked in, up from $2 billion as recently as mid-August.
Solana also continues to grow and expands its reach. Most recently, it was revealed that NFT marketplace OpenSea was working on Solana integration. This means that Solana-based NFTs will soon be sold via OpenSea, and that Solana will witness a further increase in use. This is why it's one of our 5 best cryptocurrency to buy for the weekend rally.
OpenSea is working on Solana integration, as well as @Phantom wallet support pic.twitter.com/ZEefshKSY1

— Jane Manchun Wong (@wongmjane) January 25, 2022
Capital at risk
Read more: